Peachtree City Heating Repair Service
Emergency Heating Repair and Service in Peachtree City, GA
The weather isn't always warm here in the Peachtree City, GA, area - homes need efficient heating systems for comfort and safety when temperatures drop. As the community's trusted, local HVAC company since 1949, Estes Services delivers superior service and customer care whenever you need heating help. Staffed with NATE-certified heating technicians, we perform Peachtree City heating repair and service for all equipment brands and models of furnaces, ductless mini splits, and heat pumps. Available for 24-hour emergency service, we help homeowners regain indoor comfort whenever needed.
For more information about heating service in Peachtree City, Georgia, contact the heating and air conditioning experts at Estes Services. Our NATE-certified technicians can perform maintenance and repairs on your HVAC system as well as install new HVAC equipment. Contact us today for more information.

Don't Know If Your Peachtree City Home Needs a Heating Repair?
Left unaddressed, even the most minor of heating system issues have the potential to produce major damage to your HVAC equipment. Prevent the need for more extensive (and expensive!) heating repairs when you call for heating service at the first sign of:

Unexpected sounds from your equipment or vents
Unusual smells from the heating system or vents
Cool air from indoor vents
More heating cycles than normal, yet not enough heat
Rooms vary in temperature throughout the house
Abnormally high utility bills without a cause
No matter what the issue is with you furnace or heating system, we'll carefully inspect your unit and discover the root problem and make a reliable fix. If the repair is expensive and you have an older system, we might suggest the installation of a new HVAC system for your Peachtree City area home.

Seasonal Heating Tune Ups in Peachtree City
Give your heating equipment the care they need each year with a professional tune up! Seasonal tune ups (heat pumps need them in spring, too, for cooling season) keep your heating and air conditioning equipment in good shape and help them operate at peak efficiency. Homeowners benefit from tune ups with more comfortable interiors and lower energy costs. Plus, you reduce your risk of a breakdown over the winter - saving you the time and money involved with surprise heating repairs.
When you contact Estes for Peachtree City, Georgia, maintenance on your furnace, heat pump, or ductless mini split system, we'll inspect the system from top to bottom, leaving no stone unturned. Our Peachtree City, heating maintenance includes:
Visual system inspection
Measuring amp draw and capacitor levels
Checking and adjusting gas pressure Inspecting ductwork
Check thermostat and change batteries, if necessary
Cleaning flame sensor and burners
Test for gas leaks
Changing CO detector batteries
Checking blower rotation
Testing CO detector operation
Furnace filter change, in necessary
Clearing drain lines Inspecting vent piping
Inspecting heat exchanger
Testing thermostat operation
Tightening all electrical connections
Join the Estes Service Plan

Estes' preventive maintenance service plans are all about convenience and savings for Peachtree City homeowners, and protection for their HVAC equipment! Your heating and cooling equipment is serviced as needed once per year by a NATE-certified technician. If there is a need for repair, you receive a 15 percent discount as well as a one-year repair warranty, proving immediate savings and protection throughout the year.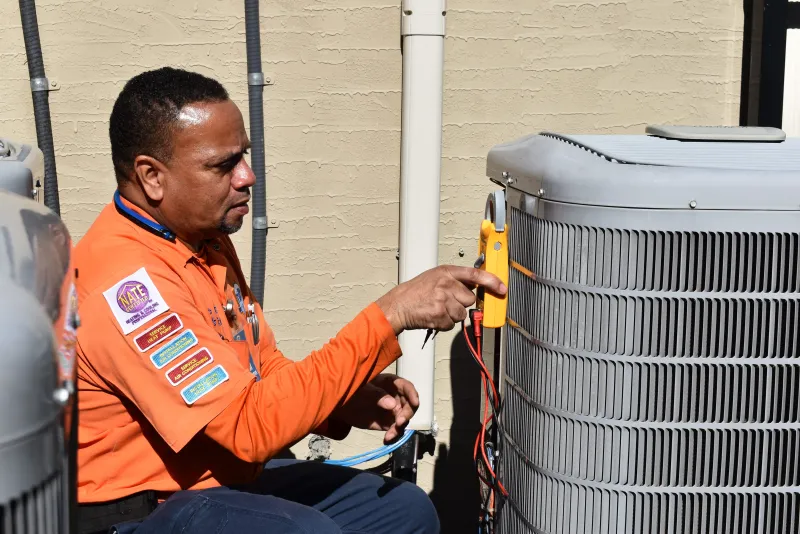 Get a Free Quote for a New Heating System

Tired of spending your year-end bonus on heating repairs, only to need more repairs later? Upgrade comfort and efficiency with installation of a new system! New heating equipment is more efficient and is backed by a new warranty, so Peachtree City, GA, homeowners experience immediate utility bill savings as well as savings if repairs are needed. New heating installation produces a more comfortable indoor environment with better air quality for your family. Estes Services helps you explore your options with free quotes for heating system installation and great financing options.
The expert technicians at Estes Services install the following types of HVAC systems for your Peachtree City, GA, home or business:
Furnaces
Heat pumps
Ductless mini splits
Schedule Your Peachtree City, GA, Heating Repair Today!
Contact Estes Services today to schedule Peachtree City, GA, heating repair and service. Our NATE-certified heating, air conditioning, and plumbing technicians put their training and skill to work for you to generate the consistent warmth you need along with the energy savings and reliable performance you want. Estes has been recognized by the Better Business Bureau with an A+ rating, the highest grade attainable in their rankings. Call us today!
Whether you need heating maintenance, installation, or 24/7 emergency service, you can trust that our heating, cooling, and indoor air quality technicians will take care of all of your heating issues to your satisfaction. We also offer air conditioning repair, maintenance, and installation services for your home's air conditioning system. Contact us or call us today for more information for HVAC service in Peachtree City, Georgia.