Bathroom Fixture Trends for 2022
From high-tech fixtures like touchless faucets to luxurious features and natural elements, this year's bathroom fixture trends center on making our lives more comfortable and convenient while also creating an environment that is conducive for enhancing our overall health and well-being.
Take a moment to discover the best bathroom fixture trends for 2022 and how you can select the best ones for your home in this article.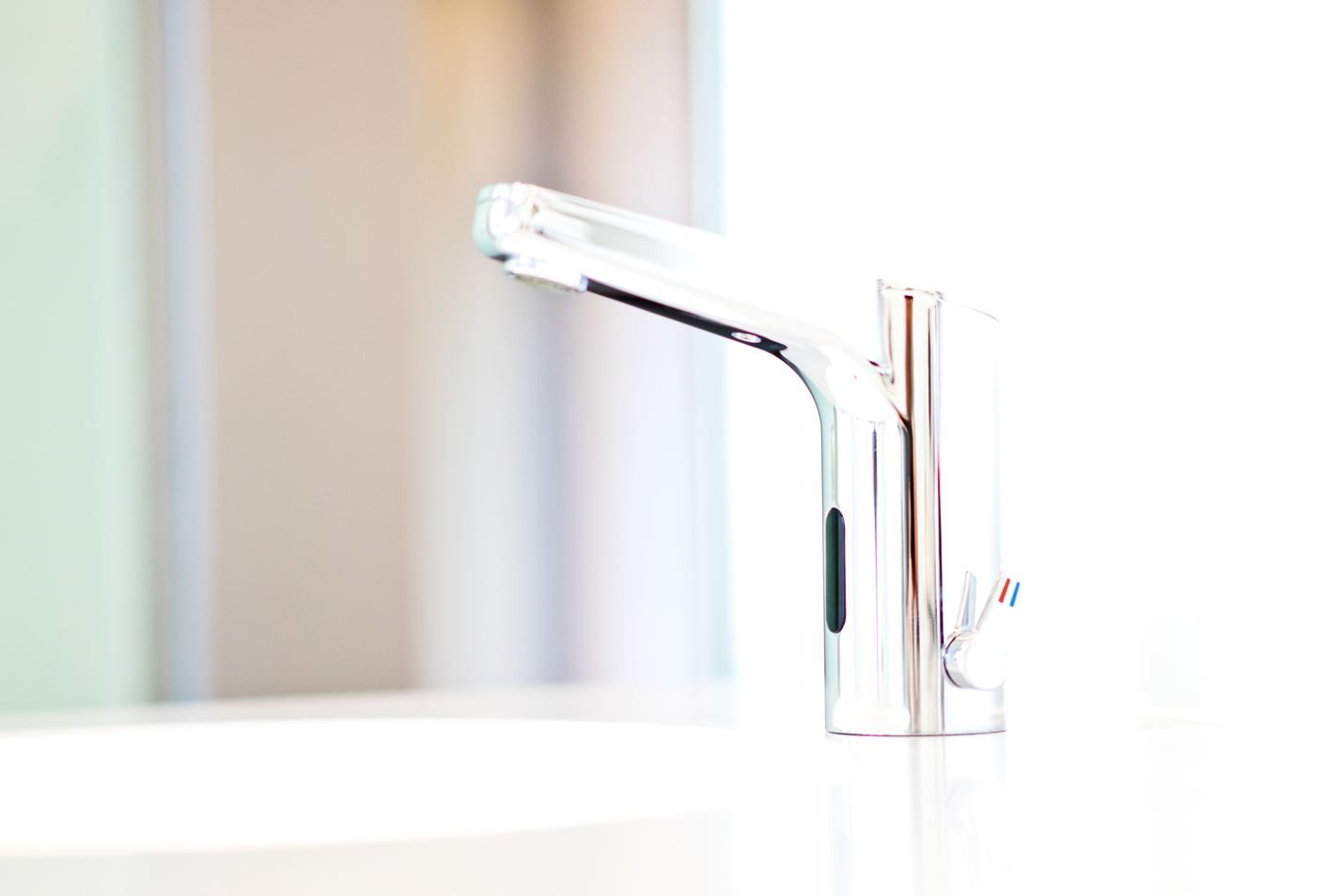 Ever since the pandemic, we have all been looking for better ways to keep our home living environment safe, clean, and healthy. One of the ways we're doing this is by installing touchless faucets in our kitchens or bathrooms in lieu of traditional ones. There are three main reasons why automatic faucets have become increasingly popular these past few years, which include:
Hygienic
According to a study by the NSF Public Health and Safety Organization, the sink handles on standard faucets harbor more than 600 times more microorganisms per square inch than a toilet handle.
However, with touchless faucets, there is no need to touch a handle to turn the water on or off, which helps to keep germs and bacteria from spreading. Also, you don't have to worry about cleaning a touchless faucet as often as you do with a standard faucet.
Sustainable
Touchless faucets are not only sanitary, but they are also more sustainable than a standard faucet. In fact, according to HGTV, automatic faucets can reduce your water usage by 30 to 50 percent, thereby reducing the cost of your monthly water bill. That's because touchless faucets are designed to come on only when you need them, and then it turns off once you're done using it.
Convenient
Touchless faucets allow convenience to your life. Each time you use it, you don't have to worry about turning it on and off manually. You can just allow the motion sensor to detect your hand movement, and then it automatically comes on.
As you can see, there are numerous benefits to installing a touchless faucet in your home. If you're experiencing faucet problems or just looking for an upgrade, you should definitely consider a touchless faucet installation.
Let's move on to the next trend on our list: high-tech shower heads.
High-Tech Shower Heads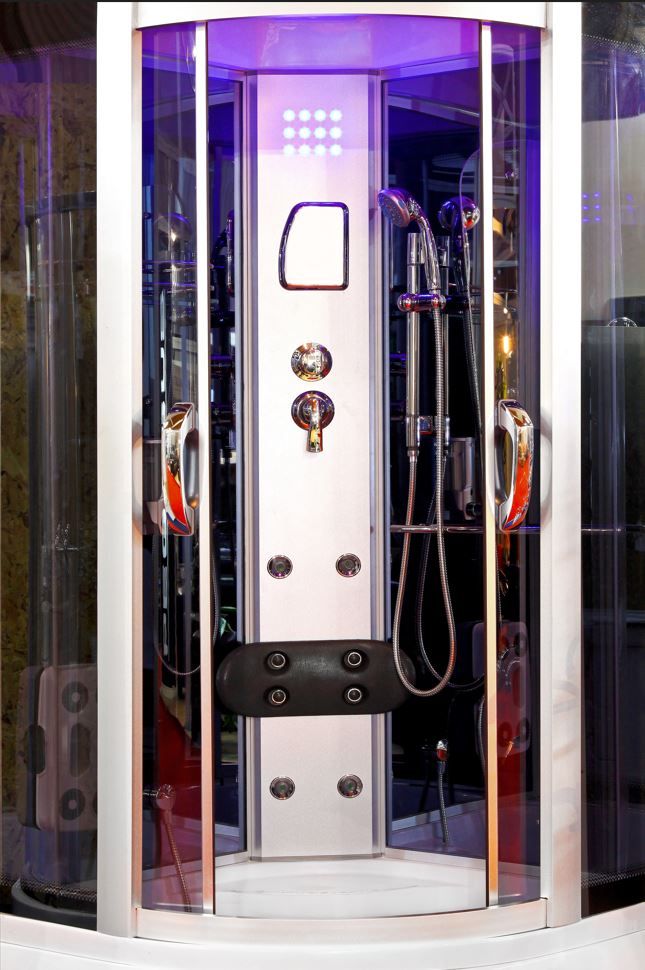 High-tech shower heads have also been popular for 2022, including rainfall and aromatherapy shower heads. Both of which can offer a spa-like experience for your bathrooms.
Rainfall Shower Heads
There are many reasons why people install rainfall shower heads in their homes.
Luxurious, relaxing, and water-efficient, the rain shower head trend is making an impact on bathrooms in 2022. With its chrome finish and modern design, a rain shower head gives your bathroom a high-end, elegant look. It's not just the looks of it that make people buy it, it is also the unique settings and features that it can come with.
This shower head can be adjusted per its flow, water pressure, and temperature. Plus, for an even greater experience, it comes in different models that offer advanced features like LED lighting, various spray settings, and a spa-like massage. Rain shower heads are also easy to clean and save you water, unlike the standard water heads.
Also, the great thing about this shower head is that it gives you full water coverage so that you don't have to keep adjusting it to get the right water pressure when you're showering.
Aromatherapy Shower Heads
Aromatherapy shower heads are another popular bathroom trend, mainly due to their relaxing and restorative benefits that they can offer for our health and wellbeing.
How it works is when you turn on the water to take a shower, this shower head infuses essential oils into your shower so that you can reap the beneficial effects of inhaling the aroma.
You cannot overlook the importance of your shower for your home's comfort, and that's why you should consider a high-tech shower head to elevate your shower experience. The next bathroom fixture trend on our list is about the overall 2022 features that say luxury.
Luxurious Features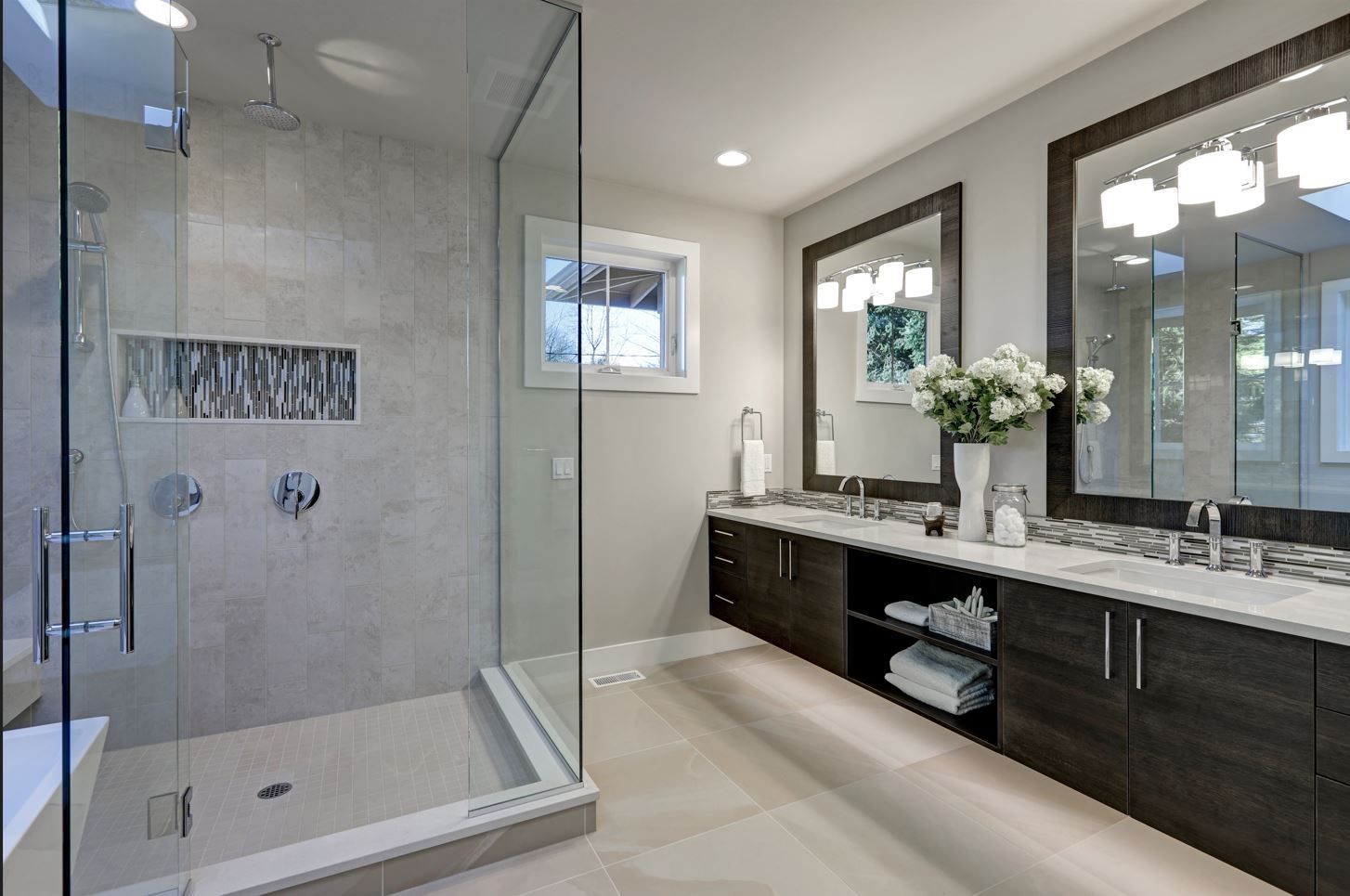 Stylish hardware like black, matte fixtures, glass shower doors, and vintage furniture are quite popular. These elements all help to create a spa-like experience that emphasizes the luxury theme that is in this year's bathroom design trends. Black fixtures are a great way to give your bathroom that modern look and feel. Large glass shower doors also give you an elegant touch to your space, while vintage furniture provides a natural, warm touch.
While some prefer a more luxurious feel, others prefer a more natural look, which is the next bathroom fixture trend on our list: natural materials.
Natural Materials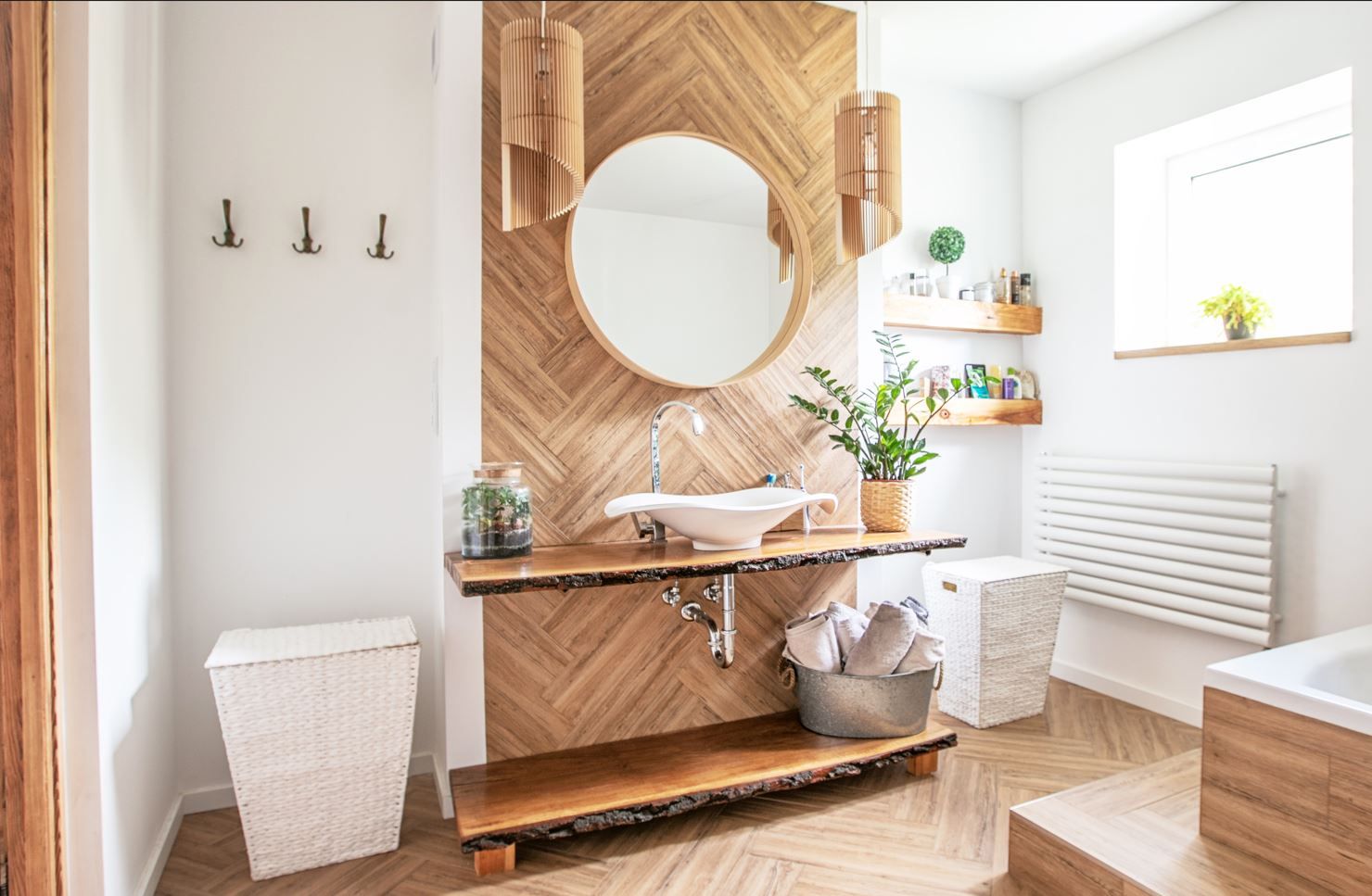 Incorporating natural elements into your bathroom space has become a popular trend. This includes a minimalistic bathroom design that uses warm earthy colors and materials like textured tile, stone, and wood. Also, integrating lots of plants and skylights that bring the natural light in is also a big trend. With the use of these organic, natural features, it helps to create a clean, luxury experience that makes you feel more relaxed and tuned to nature.
The last trend on our list is integrated technology with smart toilets.
Smart Toilets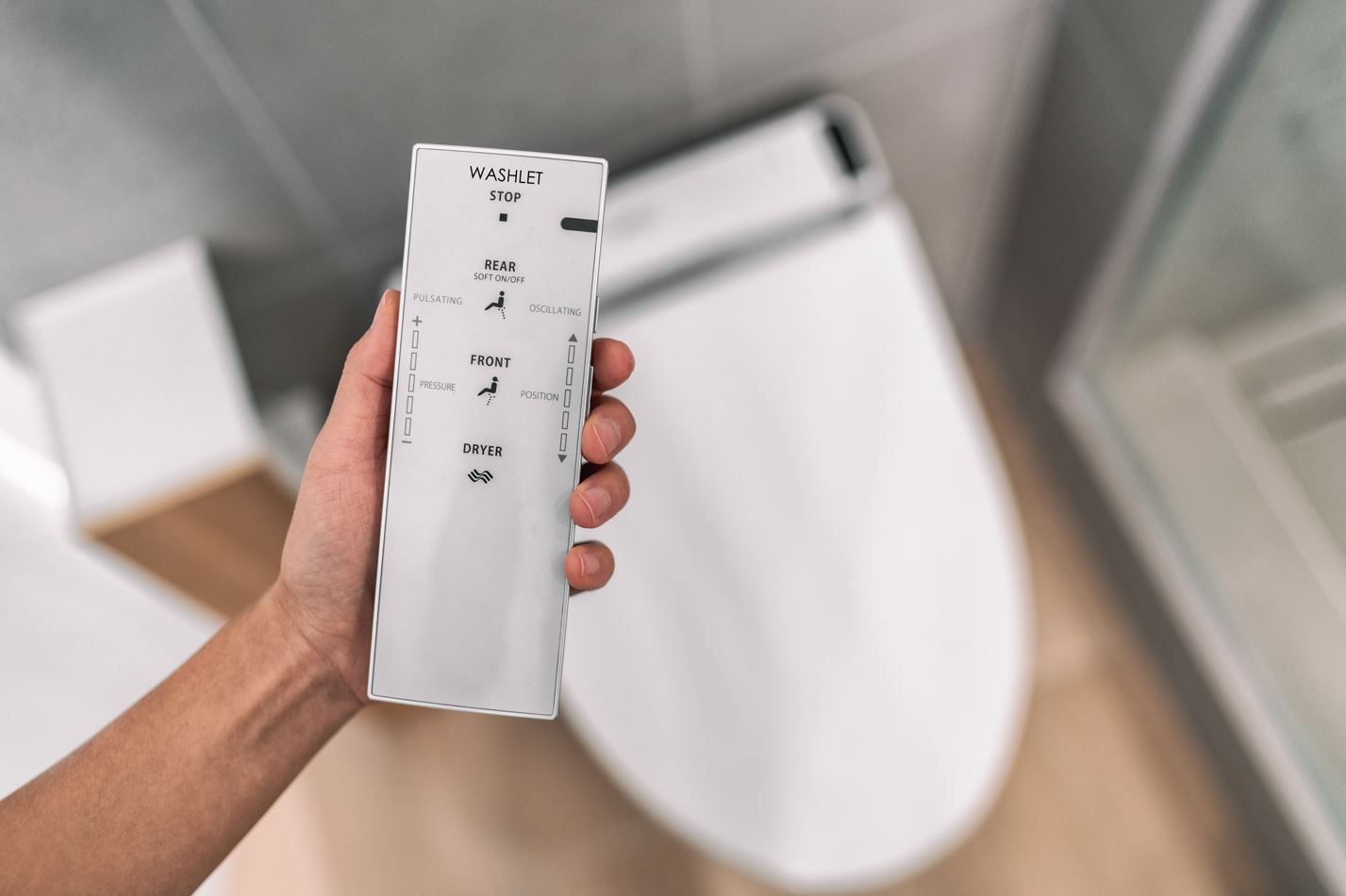 With all the high-tech smart technology there is, smart toilets are among the list ones that have become increasingly popular due to the numerous benefits they can bring.
One of the major benefits of using a smart toilet is that it has built-in sensors that enable it to flush automatically without you having to touch a handle. Once it detects that you have walked away from the toilet or if you wave your hand in front of the sensor, it will know that it's time to flush. This touchless flushing feature is not only convenient, but it is also hygienic as it helps to prevent germs and bacteria from spreading.
Furthermore, unlike traditional toilets, smart toilets are designed to save on water use. They determine how much water is needed to flush and will flush with the correct amount of water. This unique feature helps to reduce your monthly water bill and utility bill.
Some of the more advanced models come with more luxurious features like being able to clean themselves, a lid that closes automatically, nightlights, and even preventing overflows from happening.
Choose Estes for Your Bathroom Plumbing Needs
We hope you enjoyed discovering the best bathroom fixture trends for 2022. At Estes Services, we offer a wide selection of stylish and functional plumbing fixtures for your bathroom.
Whatever the look and feel you want for your bathroom, we have bathroom fixture solutions for you. In fact, our Atlanta plumbing experts are available to assist you in selecting fixtures that meet your practical needs while satisfying your design goals.
Our experienced Atlanta plumbers perform plumbing fixture installation services in the greater Atlanta area, including Alpharetta, Buckhead, Decatur, Druid Hills, Dunwoody, Fayetteville, Johns Creek, Kennesaw, Marietta, Midtown, Peachtree City, Roswell, Sandy Springs, and Virginia Highland.
It's that Easy, it's Estes!