EV Home Charging Station Guide
Are you looking to add a home charging station for your electrical vehicle (EV)? Since most EV charging happens at home, we will go over what requirements to consider for your home's comfort and safety, including the proper location, charging level options, and installation decisions to consider.
Read this guide now, prepared by our experienced and licensed electrical contractors, before adding an EV home charging station for your electrical vehicle. It's that Easy; it's Estes!
Identify Location for Charging Station
Your home charging station installation journey starts with identifying your preferred and proper location for it. For instance, do you want the charging station in the garage or outside?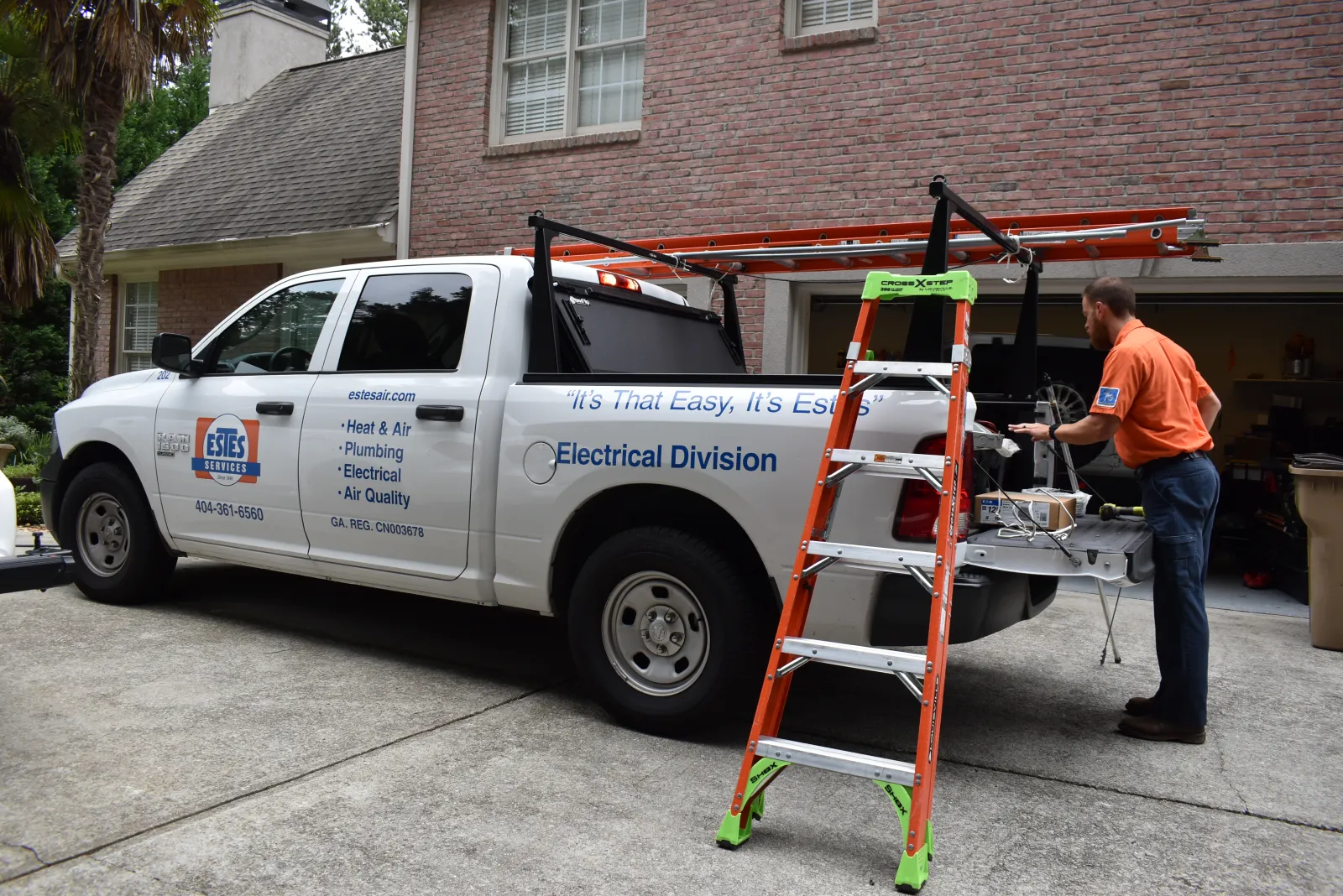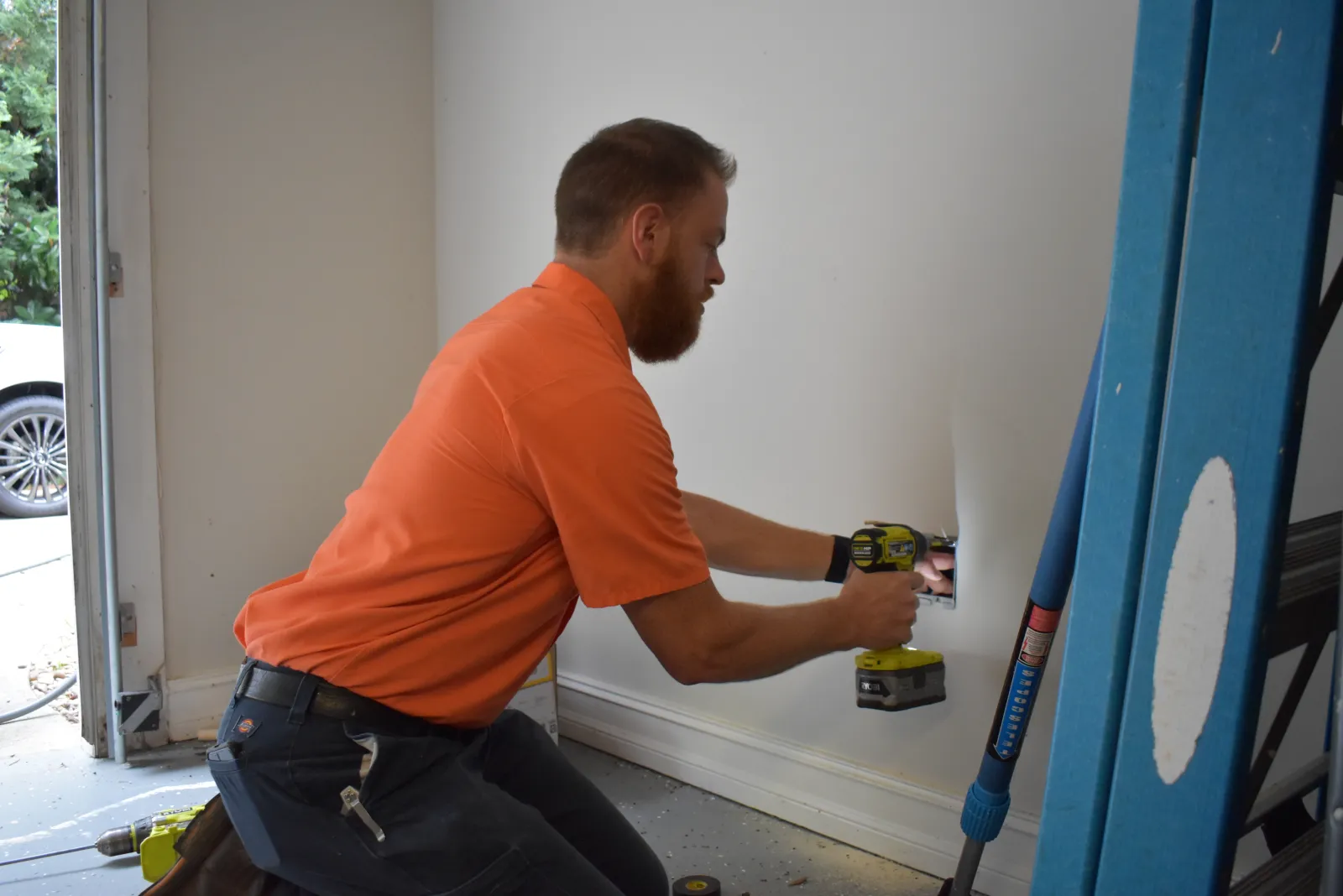 If outside, there are important weatherproof and safety precautions to make. Keep in mind that having a charging station outside can make the battery age faster, adding additional importance to considering a weatherproof enclosure.
If you would like to install the charging station inside your garage but also be able to charge it outside in your driveway, you can have an accompanying and customizable cord that reaches your car.
In fact, one of the benefits of a Level 2 charging station is that you can have a cable with a customizable length that can reach wherever your car is parked outside the garage, which leads us to our next point on the types of charging options at home: Level 1 and Level 2.
Decide Home Charging Level: Level 1 or Level 2
When it comes to EV home charging, you have two main charging level options: Level 1 and Level 2. The main differentiator between the two is how fast your electric vehicle can charge. Level 1 chargers can be plugged into a standard, 120-volt regular household plug. Level 2 chargers, on the other hand, use 240-volt circuits and require professional installation.
Level 1 Charging Station
A Level 1 charging station is the most basic level for a home charging station. Basically, a Level 1 charging station is a standard household outlet (i.e., a three-pronged 110-volt or 120-volt outlet).
You plug the cable that comes with your EV when purchased into the such outlet in your garage. As you can see, Level 1 charging is a very simple and cost-effective way to get started with your home charging.
However, the major downside with a Level 1 charging station is that it can be very slow at recharging the battery. On average, it takes about five miles per hour of charging. This means that an EV with a range of 150 miles would take about 30 hours to fully recharge.
For this reason, Level 1 is not considered an ideal solution unless you're looking to "top up" or have a plug-in hybrid. Quicker and more convenient, Level 2 is an excellent home charging option for your electrical vehicle needs. While it has a higher upfront cost, it pays off in the long run for your comfort and convenience.
Level 2 Charging Station
A level 2 charging station utilizes a 240-volt outlet, along with a 40-amp circuit. As a result, you must consult and work with a certified Atlanta electrician to ensure a proper home setup.
You can choose if you want a Level 2 charger inside or outside of your garage, on the side of your house, or a private parking lot. The cable can have a customizable length, so it can reach wherever your car is parked.
Specifically, one option to consider is installing the charging station inside your garage but having a cable long enough so that it can reach and charge your car when it outside the garage.
The main benefit of a Level 2 EV charger is how much faster it is at charging than a Level 1. On average, it takes about 25 miles per hour of charge.
As you can see, a Level 2 charger is the best solution for your home. While it has a higher upfront cost, it pays off over the long-run with the charging time you save. Not to mention, Georgia Power customers may be eligible to receive up to a $250 rebate for Level 2 EV charger at home.
Consult with Licensed Atlanta Electricians for Safety
Any improper wiring in your home can pose a fire risk with EVs. You also have to watch out for electric shock and electrocution.
No matter the charging level option you prefer, including a Level 1 EV charger, it's always best to consult with a licensed Atlanta electrician about your home charging station installation and maintenance.
Our team of Atlanta electricians can perform an electrical inspection of your home's electrical system, including its wiring and outlets, to ensure your comfort and safety. In addition, we can help guide you and provide EV risk management tips.
Get Expert Home Charging Installation with Estes Services
Our licensed electrical contractors at Estes Services will help you choose and install the right home charging station for your electric car.
Most importantly, a Level 2 charger is absolutely not a DIY project and requires professional electricians who are up-to-speed with installation and code as well as risk management practices to prevent fire, shock, and electrocution.
We will ensure proper Level 2 charger installation and maintenance. We service the greater Atlanta area, including Alpharetta, Buckhead, Decatur, Druid Hills, Dunwoody, Fayetteville, Johns Creek, Kennesaw, Marietta, Midtown, Peachtree City, Roswell, Sandy Springs, and Virginia Highland.