Now that October is here and as Halloween starts to creep up on us, spooky creatures like ghosts, zombies, and vampires will start to appear. But since they are make-believe, the real creatures to watch out for are the hidden "energy vampires" lurking in your home.
In this article, we will discuss what energy vampires are, where they hide in your home, and how to capture them.
What are Energy Vampires?
Energy vampires refer to appliances and electronics that use electricity even though they are turned off and not in use but are still plugged into the wall. Just as vampires suck the blood out of their prey, energy vampires suck the energy out of your electrical outlets.
Even worse, according to the Department of Energy, energy vampires further haunt you by adding an extra 10% onto your electricity bill each month.
That's why it's important to be able to track down and capture the energy vampires in your home so that they don't continue to haunt your energy consumption and utility bill all year long.
Where Do Energy Vampires Hide?
Believe it or not, your home could be full of energy-sucking vampires. Right this second, they could be silently sucking away your energy and money without you even realizing it. They can lurk all throughout your home—in your kitchen, living room, bedroom, office, bathroom, and even in your garage.
The most common energy vampires hidden in homes include:
● Computers
● Computer equipment (modems, routers, printers, etc.)
● Televisions
● Television boxes
● Surround sound systems
● Video game consoles
● Cell phone and tablet chargers
● Appliances with a digital clock (microwaves, ovens, coffee makers, etc.)
● DVD players and stereos
● Hair dryers and straighteners
● Drills and electric screwdrivers
How to Capture Energy Vampires
1) Unplug appliances and electronics that you don't use often.
For those spare appliances and electronics that tend to set idle, you should consider unplugging them completely until they are actually being used. This way, you're not allowing these pesky vampires to feed off your energy and money unnecessarily.
2) Invest in smart power strips for convenience and efficiency.
Since it's inconvenient to unplug each individual appliance and electronic device after you're done using it, you can instead incorporate power strips throughout your home for your own benefit.
However, you want to make sure you invest in a smart power strip over a traditional power strip. While they both allow you to plug in multiple appliances and electronics into one electrical outlet, they differ when it comes to your energy use and monthly electricity bill. That's because with a traditional power strip, as long as the power strip is turned on, the electronic devices that are plugged into it will continue to use electricity even when they are in standby mode.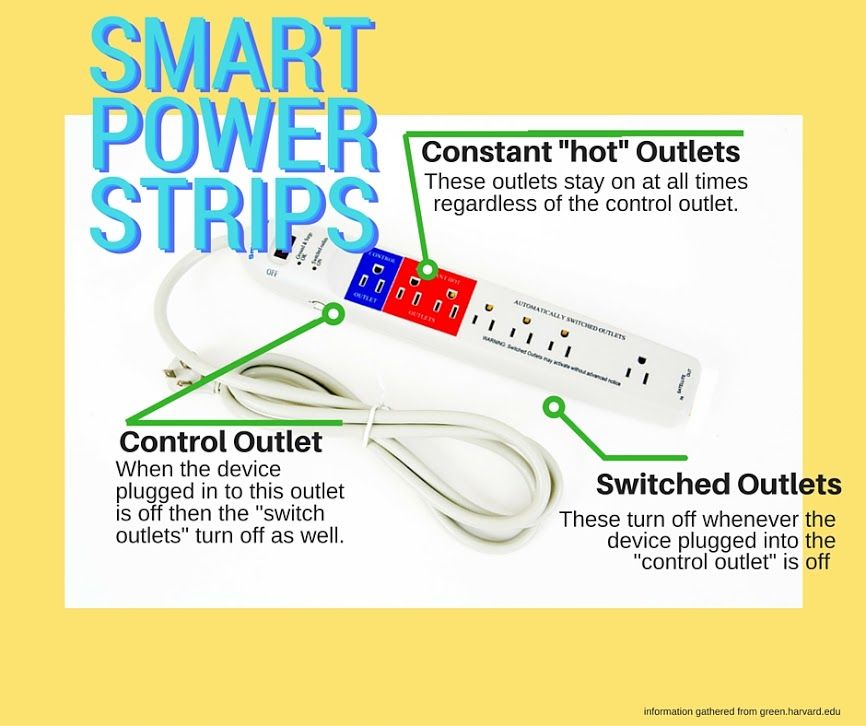 By using smart power strips, you get the convenience and efficiency of having the power strip detect when your electronic devices are in standby mode so that it turns off the power supply for you. These smart power strips will keep energy vampires at bay and will reduce your utility bill each month.


We recommend taking it a step further by having a whole-house surge protection installation, along with the smart power strips.
3) Use smart meters and home monitoring systems to track down energy vampires.
To detect energy vampires in your home, you can invest in smart devices and home monitoring systems that inform you about the energy use of your electronic devices. For instance, a watt-meter allows you to tell if energy is being wasted even for your appliances that are turned off and not in use.
4) Purchase low standby devices.
The next time you purchase new appliances or electronics, you should consider making an investment in Energy Star-certified products. When these products go into standby mode, they consume less energy overall than your typical device, saving you money in the long run and from energy vampires.
5) Schedule a home electrical inspection to capture your energy vampires
Whether you just purchased a new home, made home renovations, or installed updated appliances, it's important to have an electrical inspection done to ensure safety and comfort in your home, so you can rest assured that no unforeseen circumstances will arise. And this will help to ensure that you keep energy vampires out of your home.
Choose Estes Services for Your Electrical Repairs This Fall
At Estes Services, it's our job to keep you and your family safe and comfortable this fall season. Whether you need a fall home electrical inspection, are seeking an electrical outlet repair, or thinking about making an upgrade to a new electrical system, our team of Atlanta electrical experts is here to help.
We provide electrical services in the greater Atlanta area, including Alpharetta, Buckhead, Decatur, Druid Hills, Dunwoody, Fayetteville, Johns Creek, Kennesaw, Marietta, Midtown, Peachtree City, Roswell, Sandy Springs, and Virginia Highland.
Fall into savings! Right now, we are offering fall specials and coupons. Plus, great maintenance membership plans to keep your whole home safe and healthy.
Schedule service with us today. It's that Easy; it's Estes!