How a Tankless Water Heater Works
Are you looking to upgrade your home's water heater? With the latest advancements in water heater technology, it may be time to think about replacing your current water heater with a tankless system. Do you know how a tankless water heater works?

One of the greatest benefits of a tankless system is a reduction in energy consumption. Instead of storing unused water in a tank, a tankless system essentially heats water at the time of use. In this article, we will briefly explain how a tankless water heater works in ten simple steps so that you can better understand it before you make a purchase decision for a new water heater.
How a Tankless Water Heater System Works: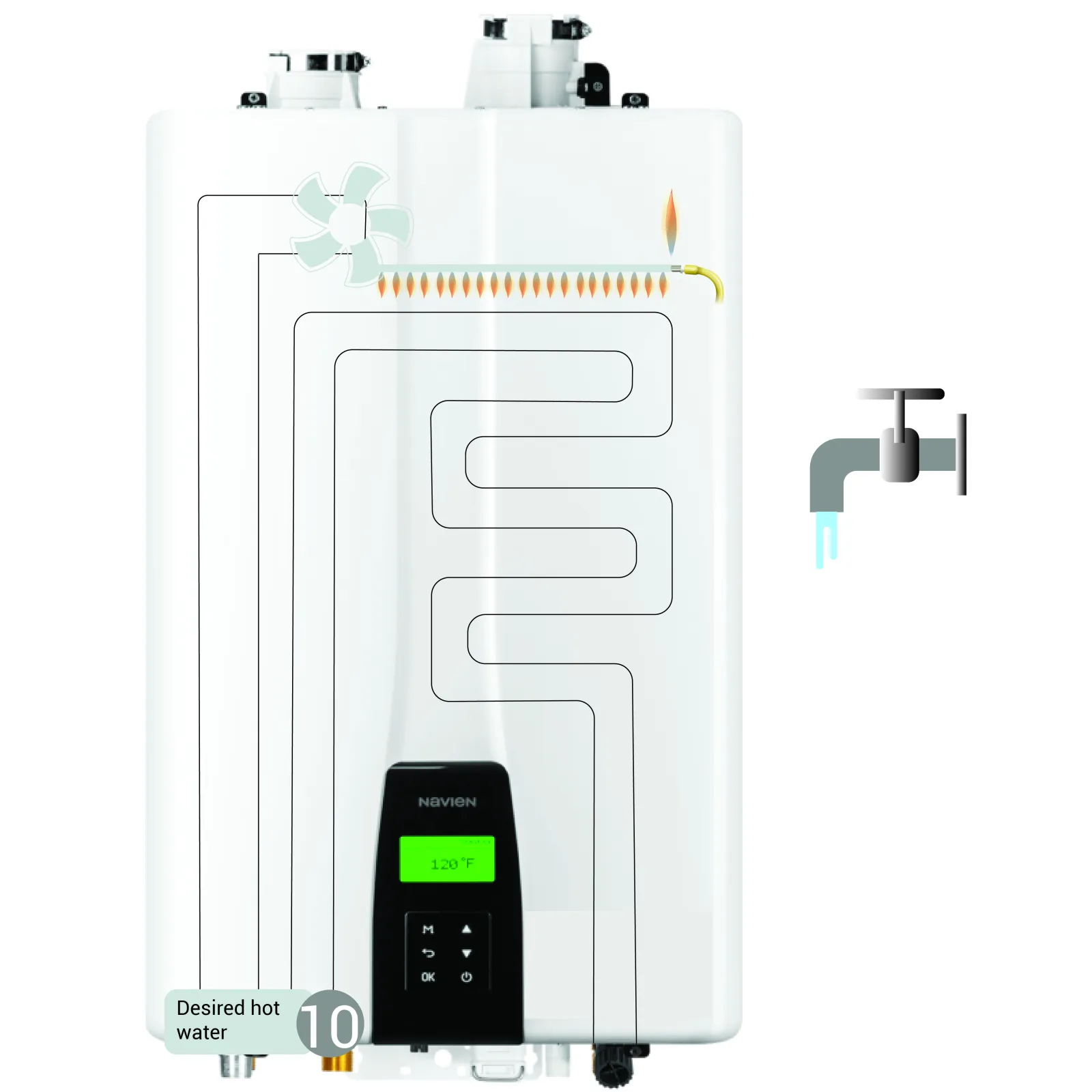 1. As you open your hot water tap in your shower, bathroom faucet, or kitchen sink, the tankless water heater detects the flow of water.

2. The flow sensor is activated to determine the amount of hot water needed. Turning on the hot water communicates information more instantaneously to its internal system than a traditional water heater would. It not only turns on the hot water, but it also determines how much water to heat to then deliver to your destination.

3. To have heat, you need a heat source, and this is where the igniter does its job. Your particular model may be gas-powered or it could be electrical. For this particular article, we will assume yours is gas-powered.

A tankless water heater differs from the traditional tank water heater. When powered by gas, the system uses an igniter and heats water at the time of use. Whereas, a traditional tank would incur heat loss and money wasted over time. Thanks to the igniter in your tankless water heater, your water usage is more efficient.
4. Then, the gas control valve opens to supply the proper amount of gas and fuel. By now, the sensors have determined how much water is needed, and in order to make that happen for you, the system has also measured the amount of gas to use to instantly heat your water.

5. Next, the fan and venturi propel the appropriate amount of fuel into the ignitor to generate the needed heat and energy.
6. The premix burner ignites which provides a sequence of flames to heat the water.
7. With the flame lit, now the cold water moves through the heat transfer coils and is preheated in the secondary heat exchanger.
8. Next, the water then moves from the secondary heat exchanger to the primary heat exchanger.
9. The water is stored briefly in a buffer tank to hold the now heated water to ensure proper comfort and delivery of the water.
10. A mere moment after turning the hot water knob on in your shower or sink, the freshly on-demand heated water is delivered. Welcome to more efficient water usage.
Choose Estes Services for Your Water Heater Installation
An energy-efficient tankless water heater can be a great investment for your home. It can help you save on utility costs and can last twice as long as a tank system. When you're ready for a tankless water heater installation, Estes Services is here to help.
Our certified Atlanta plumbing experts can help you determine what type and size water heater you need to meet your daily water needs. In fact, for over 70 years, Estes Services has helped Atlanta homeowners like you with their comfort services.
At Estes Services, we want to make your water heater installation a breeze. That's why we've introduced our Estes Easy Order Packages. With our Water Heater package, you can get a new water heater and its installation, along with a 6-year warranty and 2 years of maintenance, for just $40/month.
We have tankless water heater solutions for you. Importantly, you can count on our team of Atlanta plumbers for your water heater installation. We are proudly a three-generation, family-owned, and local business dedicated to our communities and managing your plumbing needs. We provide plumbing services in the greater Atlanta area, and our service areas in GA include Alpharetta, Buckhead, Decatur, Druid Hills, Dunwoody, Fayetteville, Johns Creek, Kennesaw, Marietta, Midtown, Peachtree City, Roswell, Sandy Springs, and Virginia Highland.
Schedule your free water heater estimate today with us today. It's that easy, it's Estes!
Schedule Your Water Heater Installation