Top Commercial HVAC Trends in 2022
The commercial HVAC industry is undergoing many different changes due to advancements in technology and regulatory changes. As a result, top commercial HVAC trends in 2022 include a shift towards smarter and more efficient technologies and solutions, including zoned systems, new refrigerants, and new tax incentives.
Our team of commercial HVAC experts shares these trends for you to know about to help you keep your facility safe and comfortable all year long.
Smart HVAC Technology
You've heard of smartphones and smart homes, but what about smart HVAC? Yes, smart HVAC technology is on the rise. Now, you can control the indoor comfort of your building remotely with smart HVAC technology, including smart air-conditioners, automation and controls, and programmable thermostats.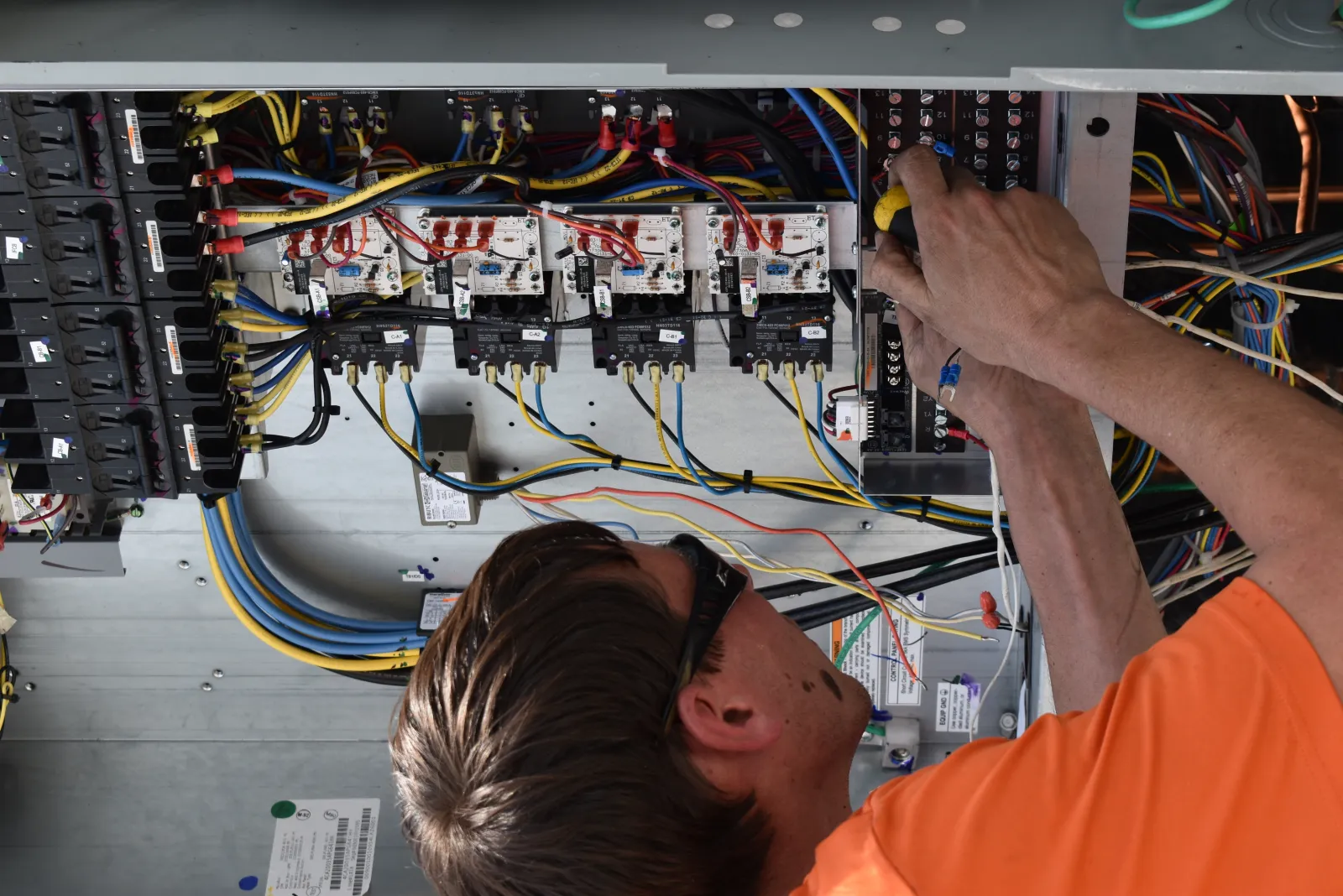 Smart HVAC Systems
New air-conditioner systems have WiFi capability that allows for remote connectivity. As a result, a new commercial HVAC system can be an excellent step into smart technology.
For example, Carrier Infinity Systems, which are considered some of the most efficient and highest SEER units available, can be linked to the new Carrier Home app, which allows you to remotely control and manage the temperature, humidity, and efficiency of the unit from anywhere.
This is but one example of the connectivity available with new smart HVAC systems. If you would like to take that connectivity a step further, consider building automation systems (BAS) and controls.
Building Automation and Controls
The adoption of building automation system (BAS) and controls in commercial buildings will grow increasingly popular. Such technologies help improve energy efficiency, indoor comfort, and IAQ.
In fact, with BAS, you can manage and monitor your building and its systems. Furthermore, HVAC controls can help you optimize system efficiency and adjust it accordingly to your building occupancy rates. This can be particularly useful if your building occupancies fluctuate in the day versus the night, for instance.
Smart Thermostats
Smart thermostats are another smart HVAC technology trend for buildings. In essence, a smart thermostat detects your building occupant's habits and preferences via connected sensors.
Wherever you and your facility are in the adoption of smart HVAC technology, our team of commercial HVAC experts can help you select the best solutions for your unique needs.
Energy Efficiency
Building stakeholders, including in the facilities and sustainability departments, have increased interest in achieving energy efficiency goals and targets. At the same time, regulatory bodies have new standards and regulations on energy efficiency that encourage the adoption of energy efficiency solutions.
Specifically, there are a few trends in regard to energy efficiency that you and your team should know about, including the 2023 HVAC minimum efficiency standards and the Atlanta energy benchmarking program.
2023 HVAC Minimum Efficiency Requirements
For instance, consider the 2023 HVAC minimum efficiency requirements and testing requirements that are going into effect on January 1, 2023. The new testing requirements are commonly referred to as "SEER2."
Atlanta Commercial Building Energy Efficiency Ordinance
There is even increased energy efficiency interest at the Atlanta city level,
Additionally, at the city, certain commercial buildings in Atlanta have to comply with the Atlanta Commercial Building Energy Efficiency Ordinance. This ordinance has benchmarking reporting and energy audit requirements that could impact your building. Such energy reporting and audit requirements are on the rise.
If you have any questions in regards to improving your facility's energy efficiency, please schedule a consultation with us today.
New Refrigerants
New refrigerants that have no ozone-depleting potential (ODP) or have low-GWP are also on the rise. This is largely due to environmental concerns. For example, there is a national HFC phasedown in the United States, known as the AIM Act, which will gradually phase down HFC refrigerants over time.
New Tax Incentives
Finally, there are also several tax incentives that building owners and managers should be aware of, including Section 179 and the Inflation Reduction Act.
Section 179 Deduction for 2022
Section 179 is a tax incentive for small businesses. Per Section 179 of the IRS tax code, businesses may deduct the full purchase price of qualifying HVAC equipment purchased or financed during the tax year.
The 2022 Deduction Limit is $1,080,000 for qualifying equipment. In order to take advantage of this deduction for 2022, you must finance or purchase the equipment and put it into service by December 31, 2022.
Keep in mind that the 2022 Spending Cap on equipment purchases is $2,700,000, which shows that this tax incentive is indeed for small businesses. Thus, if you are a small business and thinking of financing or purchasing a new commercial HVAC system, BAS, ventilation, upgrades, or controls this year, you may want to consider the Section 179 tax incentive and the deadlines.
Inflation Reduction Act
In addition to Section 179, there is now the Inflation Reduction Act, which includes tax credits and rebates for energy-efficiency improvements. While the majority of the incentives for HVAC are for homeowners, there are still some incentives for energy efficiency improvements that building owners and managers should be aware of. For example, there is a tax credit for commercial electric vehicles (EV) up to $7,5000 for vehicles under 14,000 pounds and up to $40,000 for vehicles over 14,000 pounds.
Choose Estes for Your Commercial HVAC Needs
That concludes the top commercial HVAC trends for 2022. Our experienced team of commercial HVAC professionals is updated on the latest commercial HVAC trends. In fact, we are here to help you and your facility choose the right solutions and technologies for your building's unique needs.
Since 1949, Estes Services has been providing comfort solutions in the greater Atlanta area. If you need help when considering new commercial HVAC trends or upgrades, we will gladly provide you with a free consultation.
We service the greater Atlanta area, including Alpharetta, Buckhead, Decatur, Druid Hills, Dunwoody, Fayetteville, Johns Creek, Kennesaw, Marietta, Midtown, Peachtree City, Roswell, Sandy Springs, and Virginia Highland.
Schedule a free consultation with Estes Services today. It's that Easy; It's Estes!