Comfort and Efficiency
with Top-Quality Service
Your Atlanta HVAC, Plumbing, Electrical & Air Quality Experts

Locally-Owned & Operated Family Business Since 1949

Your home or business needs an Atlanta HVAC, plumbing, and electrical company it can trust. Estes Services is a three-generation, locally-owned and operated family business that is the leading choice of comfort and safety in the Atlanta area.
Since 1949, Estes Services has been providing comfort and efficiency with top-quality service to homes and businesses throughout the greater Atlanta area. When you work with Estes Services, you work with a family business that ensures your comfort conveniently and easily.
We offer great maintenance membership plans and expert advice for all your HVAC, plumbing, and electrical needs. You can rest assured that your comfort will be "always just right" with Estes Services.

Explore Our Services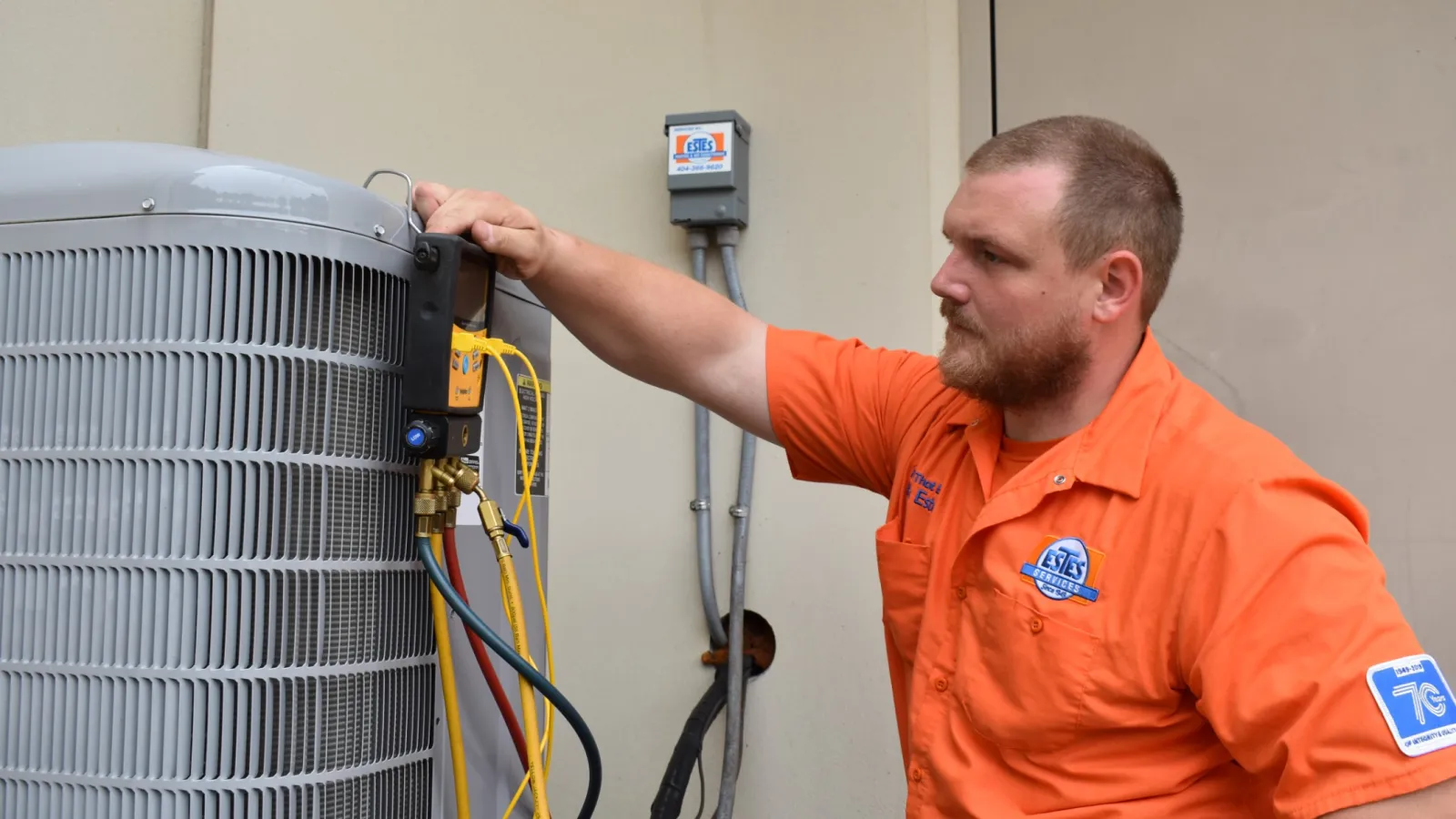 Estes Air Conditioning Repair and Installation
Properly maintaining your air-conditioning system is crucial for your home's comfort. That's why we have a great team of people who work hard every day to bring integrity and quality service to every interaction.
In fact, we are a three-generation, family, and locally-owned business dedicated to our community and handling your HVAC service. We are the family Atlanta HVAC company you can trust.
We're also proud of the recognition we've received from Carrier, such as the President's Award for more than ten consecutive years and the induction into the Dealer Hall of Fame.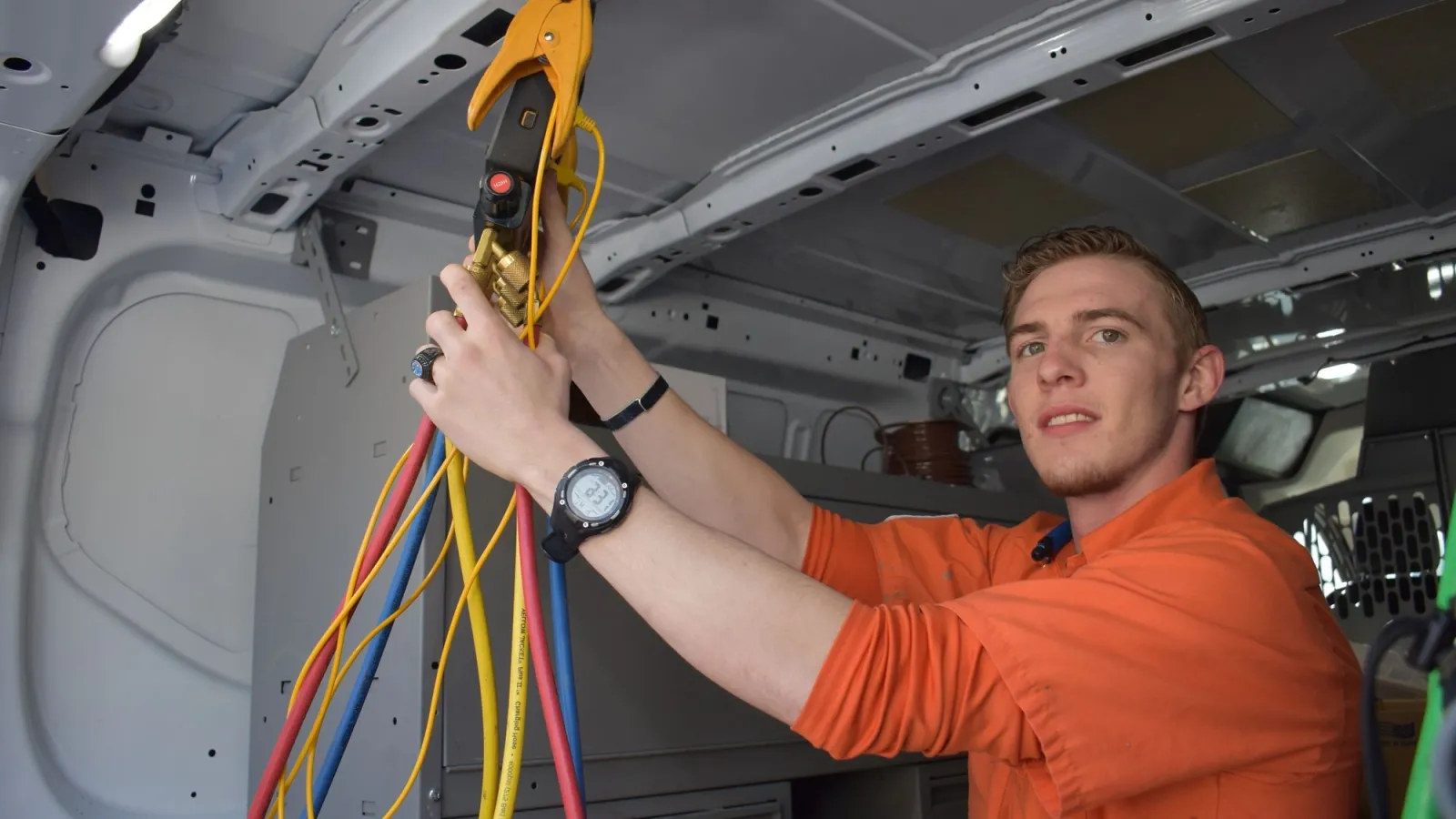 Estes Heating Repair & Installation

Your home or facility's heating equipment requires top-quality service to keep you safe and comfortable.
Whether you are looking for repairs or installation services for your furnace, heat pump, ductless mini-split, or boiler, we're pleased to consult and offer second opinions and free estimates for the best residential and commercial heating repair service for you.
But don't just take our word for it. Learn more about us, including our excellent customer testimonials.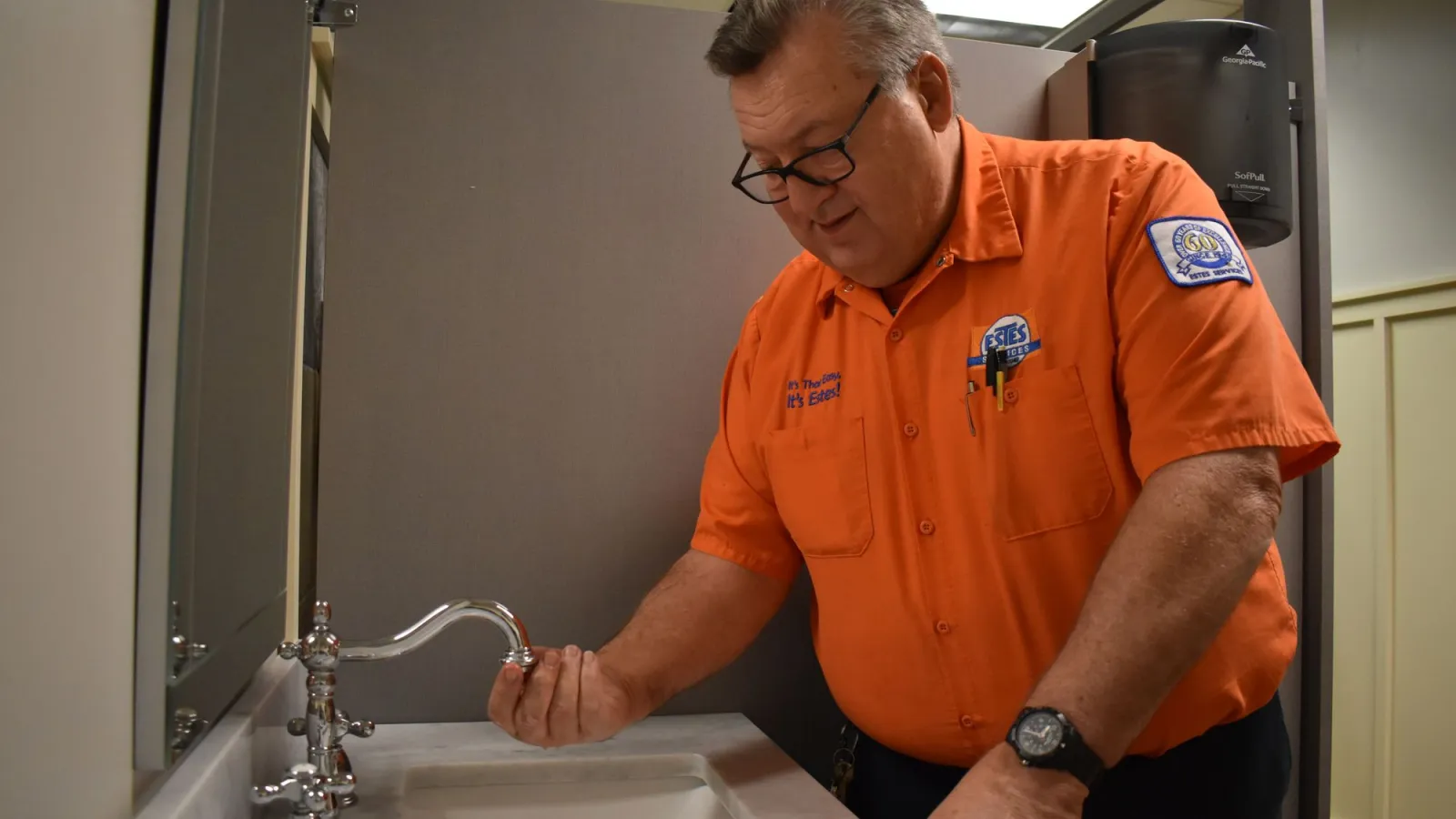 Metro Atlanta Plumbing Services

Are you experiencing water problems at your home? Homeowners like you can deal with a variety of problems, ranging from a clogged drain to a sewer line replacement need.
Just like your HVAC unit, you should also perform regular maintenance on your home's plumbing systems. Our popular maintenance membership plans include a comprehensive plumbing maintenance check that you may be interested in.
Discover all of our plumbing services today.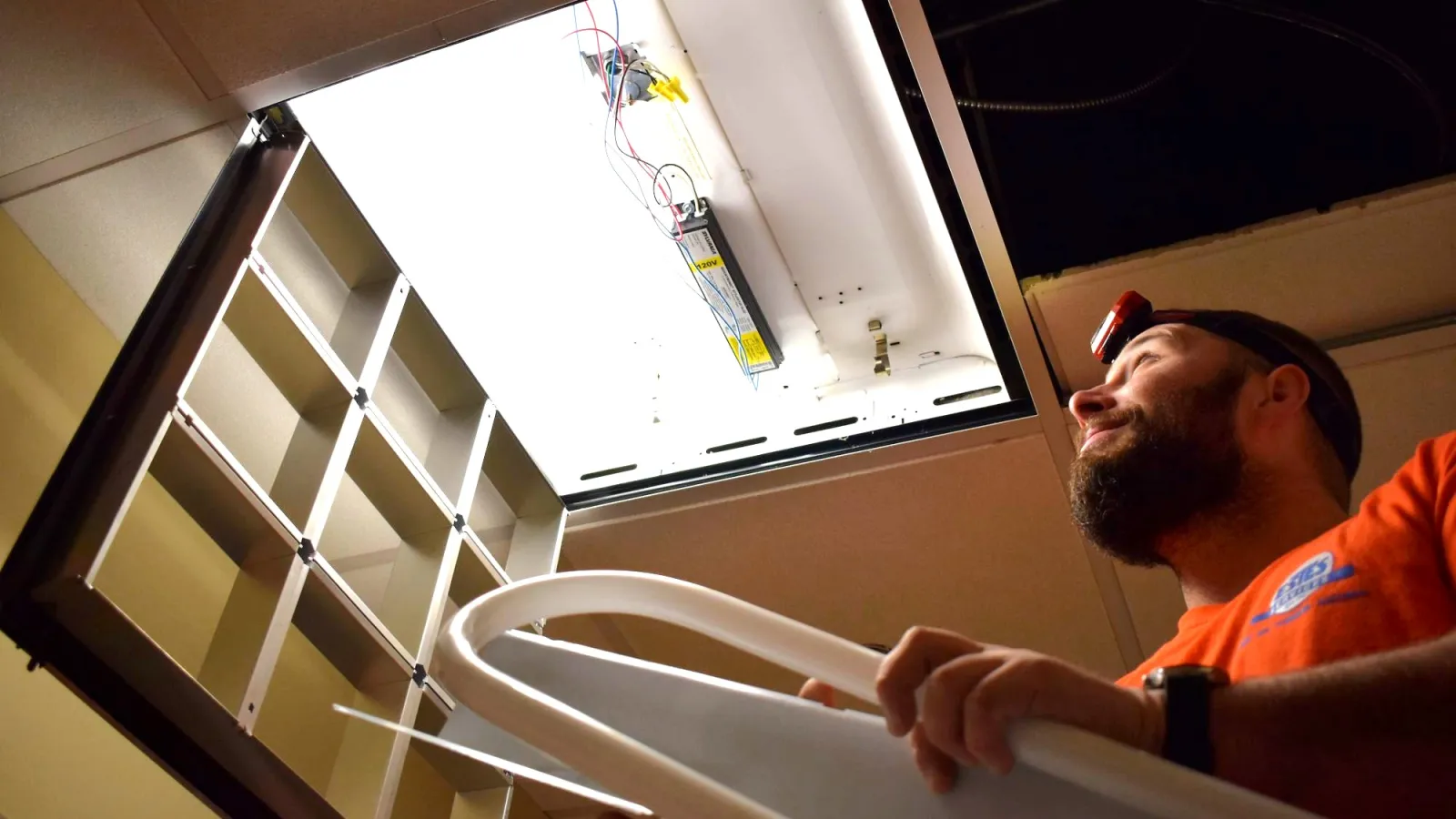 Atlanta Electrical Repair & Installation

When it comes to your home's electrical systems, you don't want to risk a do-it-yourself attempt. You should leave it to the professionals at Estes Services.
Our team of certified Atlanta electricians is dedicated to making sure your home is safe, efficient, and properly equipped with the latest technology.
We provide a range of electrical services in the greater Atlanta area, including wiring, circuit breakers, interior, and exterior lighting, smart home device installation, fans, and more. It's that Easy; it's Estes!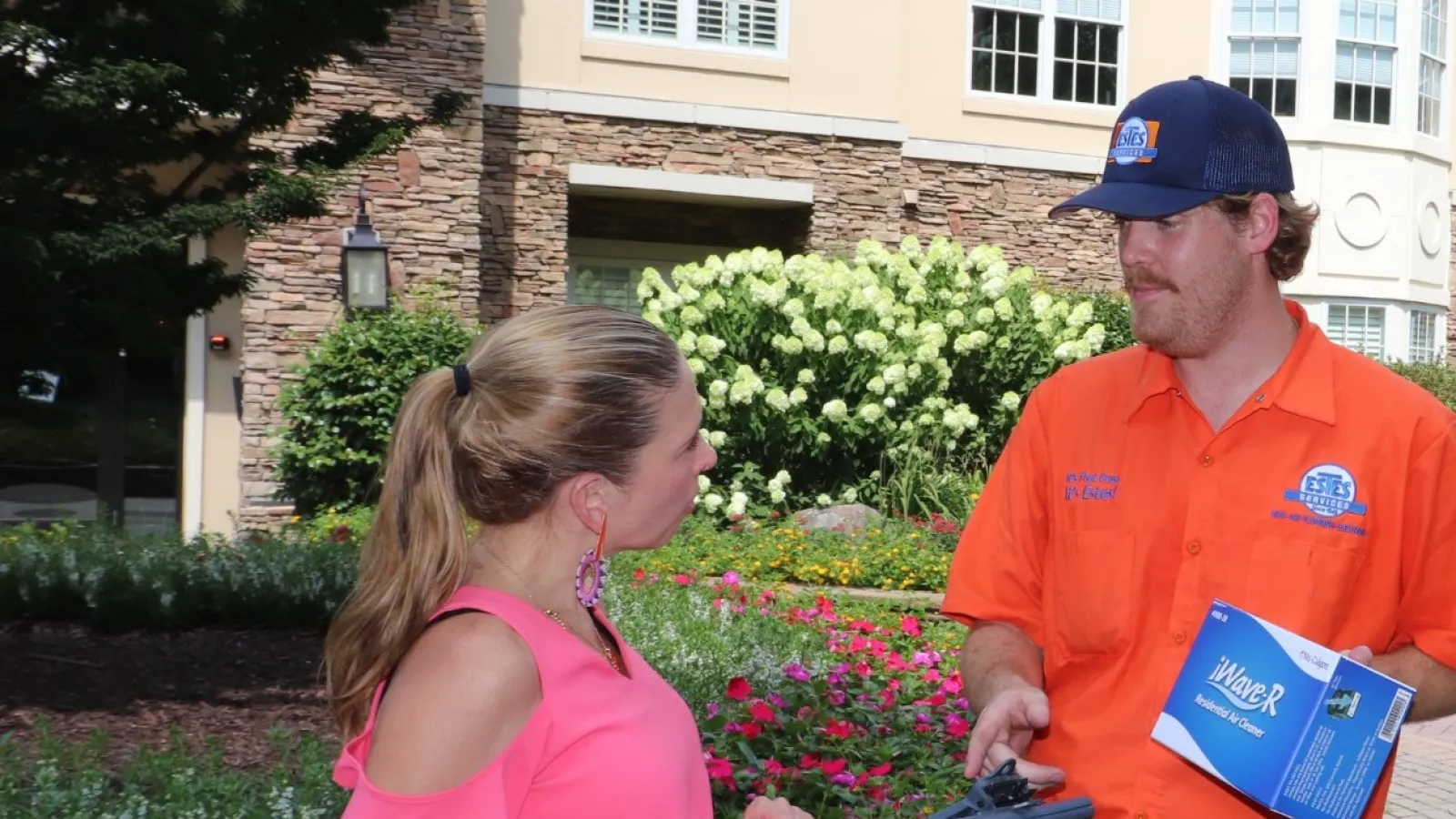 Indoor Air Quality Inspections & Upgrades

Are you looking to improve your home's indoor air quality? Keep your home safe and healthy with our indoor air quality testing, inspections, and products.
Through our various solutions, from humidifiers to ultraviolet air purifiers, we can help you ensure that the air you breathe at home is clean. This is especially important if you or one of your loved ones suffers from any respiratory issues like allergies or asthma.
It's time for you to breathe easier and lessen your allergy symptoms at home. It's time to schedule service with us. It's that Easy; it's Estes!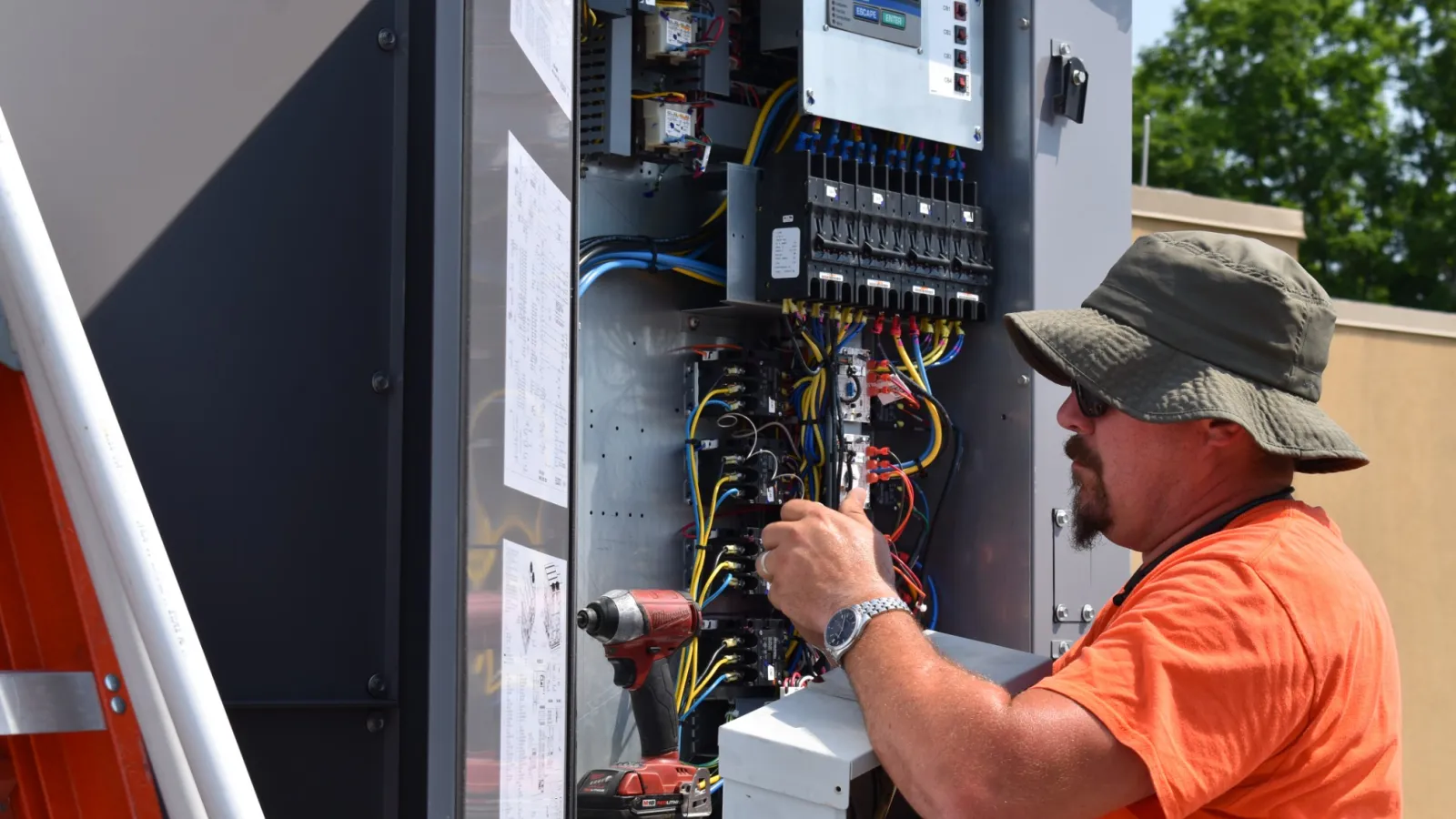 Commercial HVAC Services
Your HVAC systems are crucial to the successful day-to-day operations of your facility. We are here to help you properly install and maintain them to keep your facilities safe and comfortable, improve workforce productivity, and protect your products and essential equipment.
Our team of commercial HVAC technicians provides dedicated commercial heating and cooling services for commercial buildings in the greater Atlanta area, including commercial HVAC system repair; commercial HVAC system replacement, building automation; and controls & upgrades.
In addition, we offer a commercial HVAC maintenance membership.

ESTES EASY ORDER PACKAGES
All packages INCLUDE:
Installation | 10-year warranty | 2 years of maintenance
Installations & Repairs
that Stand the Test of Time
Whatever you need, Estes Services has you covered.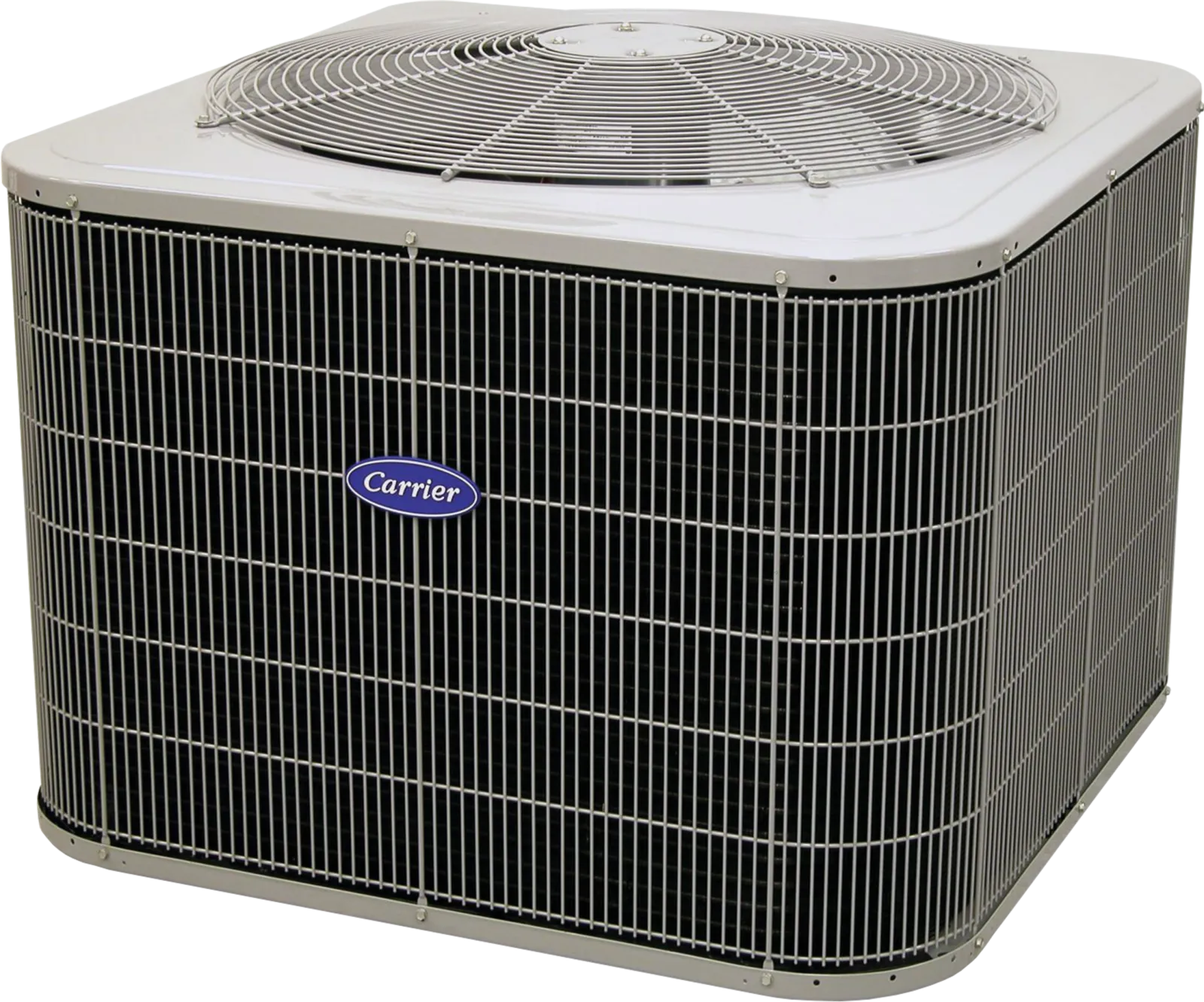 Choosing the Right Air Conditioner for Installation in Your Home
Are you in need of a new air conditioning system to get you through the hottest days of summer comfortably? Look no further than the professionals at Estes Services. Our team of trained heating and air conditioning technicians is here to ensure that your air conditioning installation in Atlanta is of the highest quality.

At Estes Services, we know that different homeowners have different cooling system preferences. We are proud to partner with Carrier - the leading name in the HVAC industry. Carrier offers excellence in their product lines, exceptional warranty contracts, and dependable durability in every new air conditioner.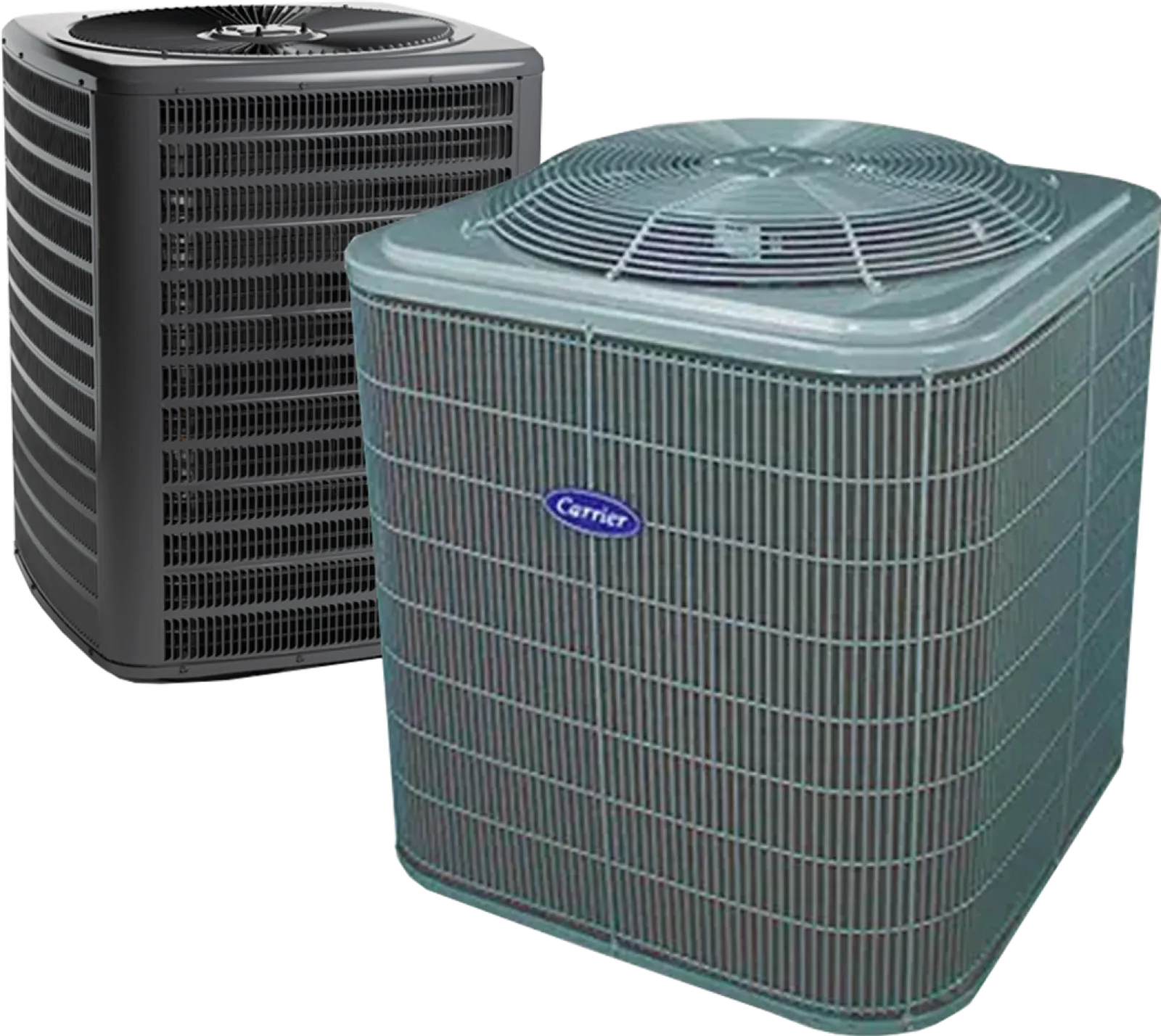 Offering Repairs for All HVAC Systems
Our skilled and knowledgeable professionals are able to offer service repairs for all makes and models of heating, cooling, plumbing, and electrical systems.
System repairs are often warranted to correct performance issues affecting your HVAC, plumbing, and electrical equipment. Estes Services offers a comprehensive range of services to our customers in Greater Atlanta. A Tradition of Integrity & Quality
"N.B. would do whatever it took to satisfy the customer because he knew without the customer he would have no business!"
Take Advantage of Our Great
Maintenance Membership Plans
Make Home Ownership a Breeze
"Bo Knows"
Estes Education Center
Stay Up to Date on Everything Home and Businesses-Services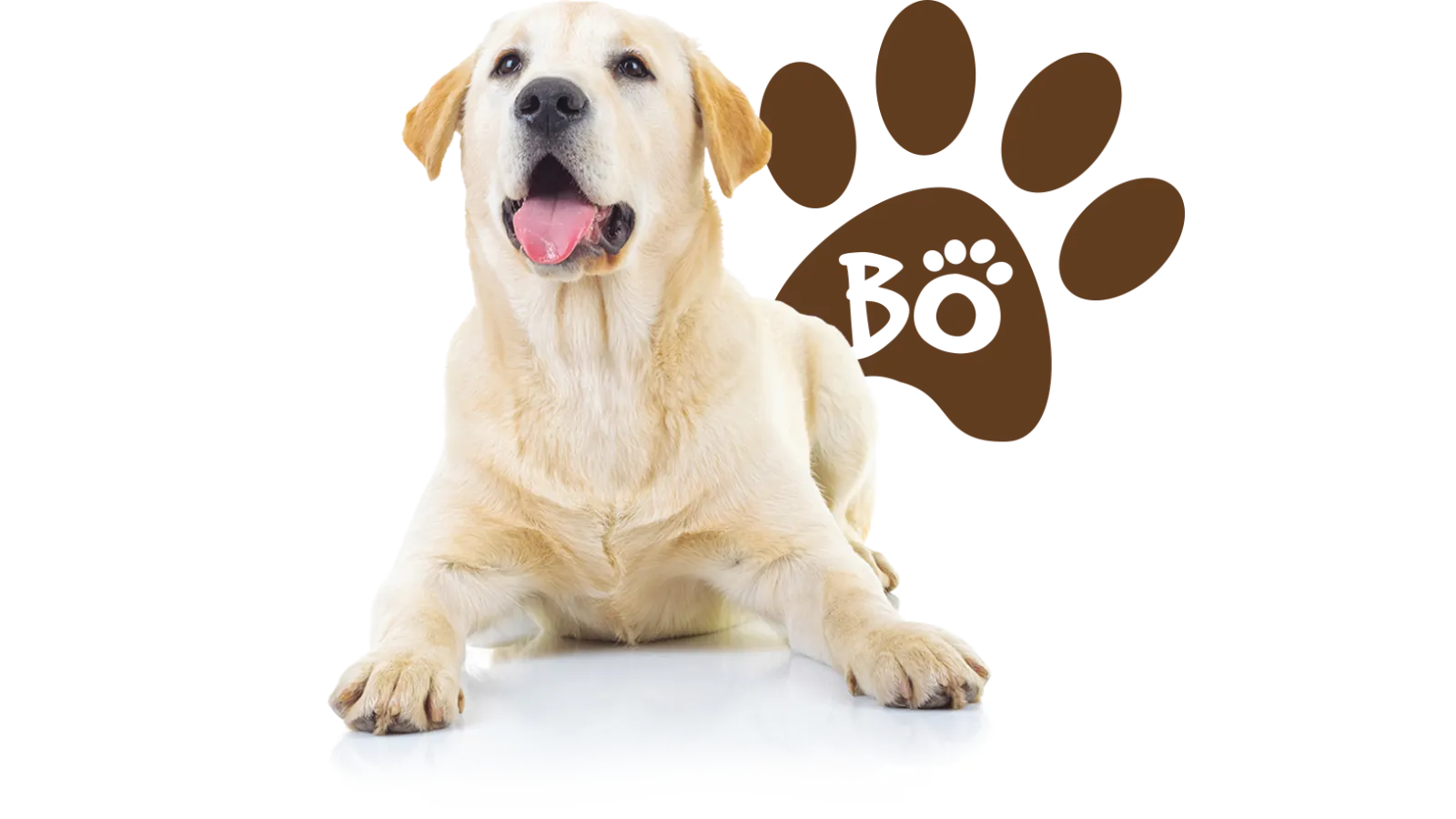 Meet Bo
Metro Atlanta has seen our trademark yellow lab in some Estes Services advertisements. The first was Jake, who created the brand and represented Estes Services for seven years, always willing to do whatever was needed to help the team! It was a sad day when he died of cancer at 11. By that time, thousands of people had seen his smiling face, and many called to ask, "What happened to Jake." Little did they know that young Bo was waiting in the wings. Since then, he helped us convey many messages, always willing to work for a pat on the head and a few dog bones.
Our Customers Share
Their Estes Services Experiences
Proud to be the #1 choice around Atlanta
My experience with Estes was fantastic. From the young salesperson Trey to the two young techs who installed my new furnace, Jason and Reuben. They were polite, professional, helpful, and did the job very well. They were attentive and I felt very...
Elaine Hoffman
5-STAR Google Review
"I was melting during a heatwave and the air conditioner died. Estes got out here quickly and scheduled a replacement of the unit. Marcus and Zach, techs, were extremely professional and knowledgeable. They dealt with the oppressive heat while...
Judy Belluso
5-STAR Google Review
"Great company, great employees, and great service! I was quite pleased on them arriving on time and completing the work in a timely manner. I also received to follow up calls to see if everything was working fine a few days after completion....
Cynthia Williams
5-STAR Google Review
"James (Paul) Taylor provided excellent customer service and the overall Estes experience has been super. I only wish I had found you years before. Thanks Dale for sending me to this super company. I highly recommend this company!"
Kathy Eaton
5-STAR Google Review
"Patrick and Guy from the Building Performance Department were the ultimate professionals. It was storming the entire day but they explored every possibility to complete my job so I wouldn't have to reschedule. They were extremely respectful of...
Shermekka Taylor
5-STAR Google Review
"Estes really stepped up for us. We knew our furnace and blower were near their end, but thought we could get a few more months out of them. We were wrong. Estes responded to our call quickly, confirmed that it was time for a new blower or...
William Mecke
5-STAR Google Review
An Estes HVAC Tech Builder's day-to-day goal is to be on time and pay attention to everything. Stay alert, and don't be scared to ask questions whenever in class. Out in the field with your trainer, be his shadow, pay attention to everything he...
Laphoma Coore
Tech Builder Class #15
I chose Estes HVAC Tech Builder because I loved the idea of getting paid for training. I personally didn't want to pay a ton of money for college to not have a guaranteed job.
Jacob Dendy
Tech Builder Class #14
Estes HVAC Tech Builder allowed me to support my family while building my foundation for a great career. The classroom, lab, and field mix allowed me to learn in multiple styles, which helped with retention and application. Estes Services knows...
Lee Steward
Tech Builder Class #8
Check Out Our Latest
Special Offers & Coupons
We aim to keep your home and businesses safe and comfortable